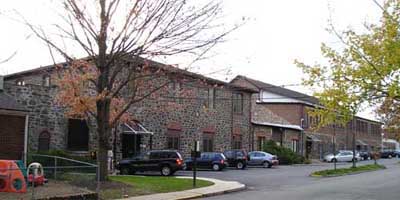 Straube Center
Straube Center on West Franklin Avenue, reachable from Route 31 or Knowles Street, was originally a factory serving many uses, including Cointreau, Ltd. This stone building, converted to office and school use, represents an excellent example of adaptive reuse
When the Cointreau company would manufacture its liqueur, the aroma of oranges would float over the nearby area. It was wonderful. Later, probably around the late 1960s, Cointreau moved to the Jamesburg area.
At one time, commutors were able to use a tunnel beneath the railroad tracks to go from the Railroad station to the area around Straube Center. Again, sometime around the 1960s, the tunnel was filled in with dirt as a safety measure.
Straube Center includes all of the buildings in the photo, including the nursey school at the left of the photo.
return to Pennngton Home Page
posted July 2007