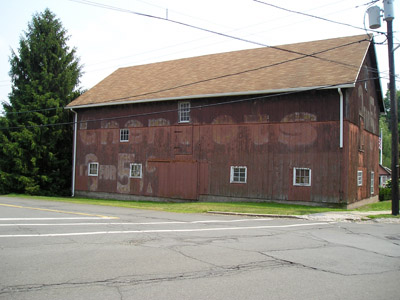 Woolsey and Cadwallader Lumber Yard

Brookside Avenue
This building may not be recognized as historic, but it is certainly historic to me. This is one of several storage buildings in the Woolsey and Cadwallader Lumber Yard, just a short walk along Brookside Avenue.
Note the writing on the building that reads, "Cheroots, 3 for 5 cents." I think the lower right hand corner reads, "Cigars", but it is not clear enough to be certain. How long has that painting lasted?
Barn painting was an early form of billboard advertising. The photo shows the building facing north and toward the railroad tracks. Travelers coming toward Trenton on the railroad would have a clear view of this sign. The narrow side of the building, pointing west and also toward the track, reads, "3 for 5 cents." The south side of the building reads the same as the north side. Does anyone know when cigars were three for a nickel?
When Rosemary and I came to Pennington, this was the place to go if you wanted a box of nails, some 2x4s, or maybe a replacement window. A trip through the storage building was like a trip through history. They would order stuff, have some left over and store it forever. You could get some great bargains.
In those days, there were three hardware stores and a lumber yard in the Borough. Now, we have one hardware store and no lumber yard. The decline seems to have started when Korvettes started doing business on Olden Avenue in Trenton. Korvettes was perhaps one of the first high-volume, lower-cost stores located in one of the first shopping malls in the Trenton area.
Before Korvettes, every Thursday after work, Rosemary and I would drive to Trenton to do our weekly shopping. We would visit Sears, then walk to Arnold Constable's, on to Yards on Broad Street. We would finish off by visiting Lafayette Electronics on Front Street (electronic supplies for the hobbyist). We would enjoy dinner at one of the restaurants along State Street and maybe do a movie.
When Korvettes arrived, it was much easier for us to go there. There were good restaurants along Olden Avenue. The movie across the Korvette parking lot was great, and Heath Lumber was right next to the movies. Already, there began a noticeable decline in business activity in Trenton.
Later, as shopping malls moved further into the suburbs, there was Neshaminy in Pennsylvania, then Oxford Valley (a little closer in Pennsylvania) and finally Quakerbridge on US Route 1 in Lawrenceville. That was the end of shopping in Trenton and for many local businesses. Sears, Constable's, Yards, Lits, how many others, closed their Trenton stores and relocated elsewhere.
In any event, Woolsey and Cadwallader tried to continue, but they just could not compete. They were a great place in their time, with some great people. I spent a lot of time there. I would tell them what I wanted to do. Then, they would tell me what I needed and how to do it. May the Lord bless them, wherever they are.
Some History
Pennington has had a lumber business for almost 100 years. M. and W. L. Tayor established a lumber yard in 1872. They were succeeded by Drake and Buckman from whom the enterprise passed in 1876 to Lewis and Buckman. Five years later, new owners took over. The name of the firm became Clarkson, Knowles & Company and the location was changed. The new company removed the yard from land on the old Mercer and Somerset Railroad to property adjacent to the Delaware & Bound Brook line, where its successors have continued. Clarkson and Knowles dealt in lumber, hay grain sand, coal, and produce.
By 1881, the town contained two cigar factories. In addition to the one owned by Joseph B. Wiggin, who had begun manufacturing cigars in 1864, David Chatten Jr. opened a similar factory in 1881. (Is there a connection with the sign on the Woolsey and Cadwallader building?)
return to Pennngton Home Page
Ref: Pennington Profile
updated January 2017